Whelping Pen
Sub-links for this page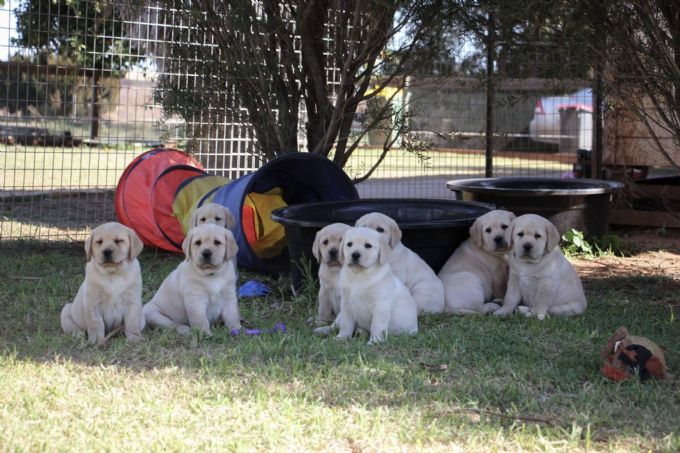 2020 litters


All yellow litter due March 2020 -CH Aralyen I will Survive (Ai) x Bellbidgee Shimmer Of Light - Misty - repeat mating that produced stunning, friendly, sound puppies in 2019.
Litter of black/yellow also due March 2020, NZ Ch. CH Jancerie Jumping Jack Flash of Blackhills (imp NZ) - Jack x Sybeck True Love - Cass - lovely producing sire, and out of a lovely girl in Cass, who is 1/2 sister to my girls Misty and Maddie
ALL PUPS ARE SPOKEN FOR AS AT 21st MARCH 2020

I only breed a couple times/year, putting my heart & soul into my puppies. I will support you on the journey and throughout the life of your lab. Many buyers become lifelong friends.

** Please email first and I will send you my questionnaire. This allows you to provide me info, and gives a talking point for further conversations.**
**This is not first in best dressed**

Price: $2,500 - Limited Registration with DogsNSW. Main registration for showing/breeding may be discussed. Please see my Facebook page for more info, photos & updates.
ALL BELLBIDGEE PUPPIES COME WITH A COMPREHENSIVE FOLDER WHICH INCLUDES THE FOLLOWING:
1. Certificate of Registration and Pedigree with ANKC (you choose your puppy's name)
2. Labrador Guide book 3. Microchip details and changeover
4. Copy of parents ANKC multi-generation pedigree
5. Copy of Parent's Hip/Elbow scores
6. Copy of Parent's full DNA profiles
7. Vaccination Card & worming history
8. Contract of Sale and receipt
9. 6 weeks free Pet Plan Insurance
10. Bag of Supercoat puppy
11. Roll of beef mince
12. Access to the Bellbidgee owner group
13. Lifelong support and guidance


Each Bellbidgee Labrador is raised in a loving home environment and provided with lots of stimulating play and interactions to aid in development. I am passionate, and care a lot about my dogs and offer ongoing support at your leisure. Please contact me for a questionnaire, and to register on the waiting list.
When you pick up your puppy I will:
- Talk you through our comprehensive Puppy Pack Handbook
- Discuss and sign official documents and registrations
- Explain diet, nutrition, healthcare, training, exercise
- Explain obedience training and demonstrate foundation training
I always provide a thorough puppy handover so you know how to take care of and raise your puppy, and am available for the life of you puppy for follow up support and guidance.
Dogs NSW Member 2100064234. Please contact Dogs NSW on email: [email protected] to verify my membership.
NSW Breeder Identification Number : B000743193